Data is the next fuel! Marketers are using it to get the best results for their campaigns. Businesses that have adopted data-driven strategies have delivered 5-8 times the ROI on their marketing spending.
Data-driven marketing is transforming the world of online commerce. It has different benefits, challenges, and essential elements that we will explore in this blog.
First, let's understand what data-driven marketing is.
What is Data-Driven Marketing?
I will share a live example to help you understand the inner-workings of this marketing approach.
One aspect of this strategy involves collecting demographic information on a person's age, gender, job, and location. So, DirectTV did just that to connect with newer ones and boost its existing user base.
Through data-driven marketing, the company identified a specific market that it wants to target: People who have recently moved to a new home.
They learned that people who move to another location would often try out newer services and more often than not switch their service providers.
(Source: Adverity)
With the help of USPS data, the company identified homeowners who applied for a change of address. They created a personalized version of the company's homepage, uniquely tailored to those visitors.
The result: This personalized data-driven homepage outperformed compared to the standard one, even though the standard one was offering an additional $300 gift card.
So, this is what we call data-driven marketing. It helps you deliver personalized marketing campaigns. I will elaborate on this further in the next section.
Data-Driven Marketings Helps Deliver Personalized Content and Campaigns
The research by GoodFirms revealed that data-driven marketing helps create personalized content and campaigns (65.2%). It is one of the significant benefits of this strategy.
I will share Amazon's and Sainsbury's examples to elaborate it further.
Amazon
Amazon uses behavioral targeting, predictive modeling, and personalization in its marketing strategies. Personalized and contextually relevant advertising is the most potent arsenal in their quiver.
The company focuses on delivering personalized content, emails, and offers. It uses powerful algorithms to customize the homepage and curate product recommendations based on the user's search and purchase records they have browsed or placed in the cart before bouncing off.
Amazon's messaging is dynamic and empowered by data.
When browsing their website, you must have seen these two recommendations "the frequently bought together products" and "Customers who purchased this product also bought," Both suggestions are recommended based on accumulated data.
44% of customers purchase from such recommendations.
Wishlists are other personalized features that work well for companies.
Sainsbury's
Sainsbury's is one of Britain's popular supermarkets. They implemented coupon-at-till technology to print targeted coupons on products with high demand among customers.
They were the first European retailer to implement self-service checkouts in all stores. It gave customers more control at checkout.
Sainsbury's Nectar loyalty system is excellent for encouraging repeat purchasing. They came up with a new app-based structure regarding how Nectar points accumulate, granting rewards on a personalized basis. It allowed customers to earn points based on how long and often they shopped at Sainsbury's, including the value of their shopping.
Sainsbury's also used smartphone location data to deliver personalized offers to consumers on their mobiles. It helped the company gain insights into how people navigated their stores, influencing their merchandising decisions.
Both Amazon and Sainsbury's forged an emotional connection with their customers through data-driven personalized content.
Let's explore different approaches to connecting with the audience.
Forging Emotional Connection With Customers is An Achilles Heel In Data-Driven Marketing
GoodFirms research showed that building meaningful connections with customers is challenging for marketers. Of the 207 respondents surveyed, almost 46.4% stated that connecting with the targeted audience is no piece of the cake.
In the wake of these challenges, brands are trying their best to establish emotional bond with the consumers by integrating the following proven methodologies in their marketing mix such as:
Sensory branding
Storytelling
Cause branding
Empowerment
Sharing some examples of brands that used these methods to build an emotional connection with their audience. This will give you an idea of how these methods work.
Example 1: Sephora
Sephora embraced sensory branding to build an emotional connection with its customers. In the past, Americans shopped at traditional department stores like Macy's and Belks for cosmetics and fragrances. Each brand was isolated at a separate service counter with a salesperson who focused only on that one. All products were stocked in closed cases, which created a high-pressure selling environment and a long wait for services. Brands were unable to experiment.
Sephora changed this and encouraged customers to explore and experiment with its products. Open shelving allowed the consumers to touch, smell and apply the product.
Emotional Branding: Sephora's open shelving allowed the consumers to touch, smell and apply the product
Sephora's open selling environment allowed sensory experiences, which was the key to its success. That's how they connected with their customers.
Example 2: Burberry
Burberry was established in 1865 by Thomas Burberry. The company was known for its high-quality trench coats and signature plaid. However, as time went on, the company needed to revitalize itself to remain in the competition.
Storytelling: In 2006, Burberry came up with a brand story showing its trench coats in the iconic moments of history, such as:
Shackleton (the British polar explorer) wearing Burberry's trench coat to the Antarctic
Lord Kitchener (the British Secretary of State) wore it across Africa during World War I.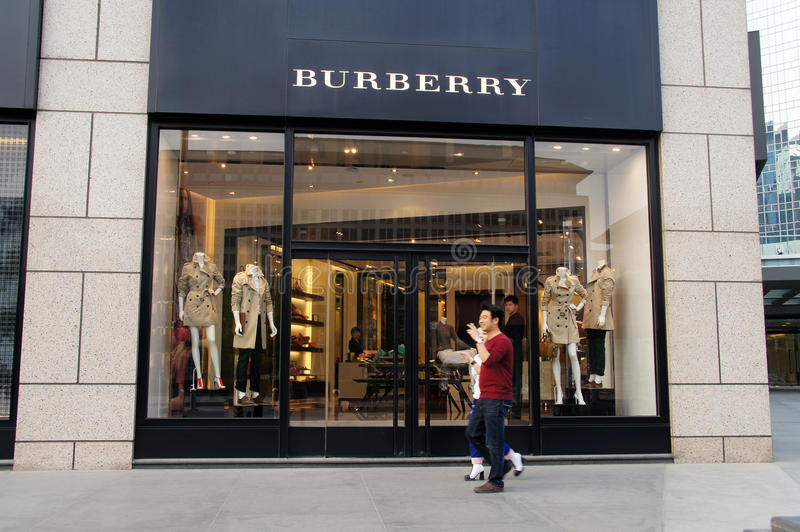 The company focused on its heritage and used social media and augmented reality apps to reach out to millennials. With RFID chips, they turned their store mirrors into screens to engage customers in its brand story.
Burberry reinforces its narratives with dynamic, unique, and consistent messages through its different channels.
Example 3: Warby Parker
Cause branding: Warby Parker, an eyeglass company, launched the "Buy a Pair, Give a Pair" program. Under this, the company donated a portion of its sales to nonprofit groups that train people in giving eye exams and distributed affordable glasses to the communities. This philanthropic program was inspired when the company realized that approximately one billion people globally, or 15% of the global population, don't have access to glasses, reducing their ability to learn or work.
By 2017, Warby Parker donated more than two million glasses to those in need. The company forged an emotional connection with the customers through this campaign, gained their trust, and increased its brand awareness.
Example 4: Nike
Empowerment: Nike came up with an empowerment campaign, "Just do it," focusing on internal conflicts and determination that leads to heroism. The advertisement displayed laziness, a human aspect that resonated with many customers. The company promoted that loyalty to Nike would give consumers the motivation to overcome the laziness they experience daily.
By turning the customer into a hero, Nike encouraged customers to purchase its product to become successful and be part of something greater than themselves.
Building an emotional connection also requires understanding the customer. That's where Buyer Persona comes in.
Buyer Personas: An Important Element of Data-Driven Marketing
GoodFirms research shared that customer-focused content is crucial for a successful data-driven marketing strategy. But to do that, marketers need to create buyer personas first.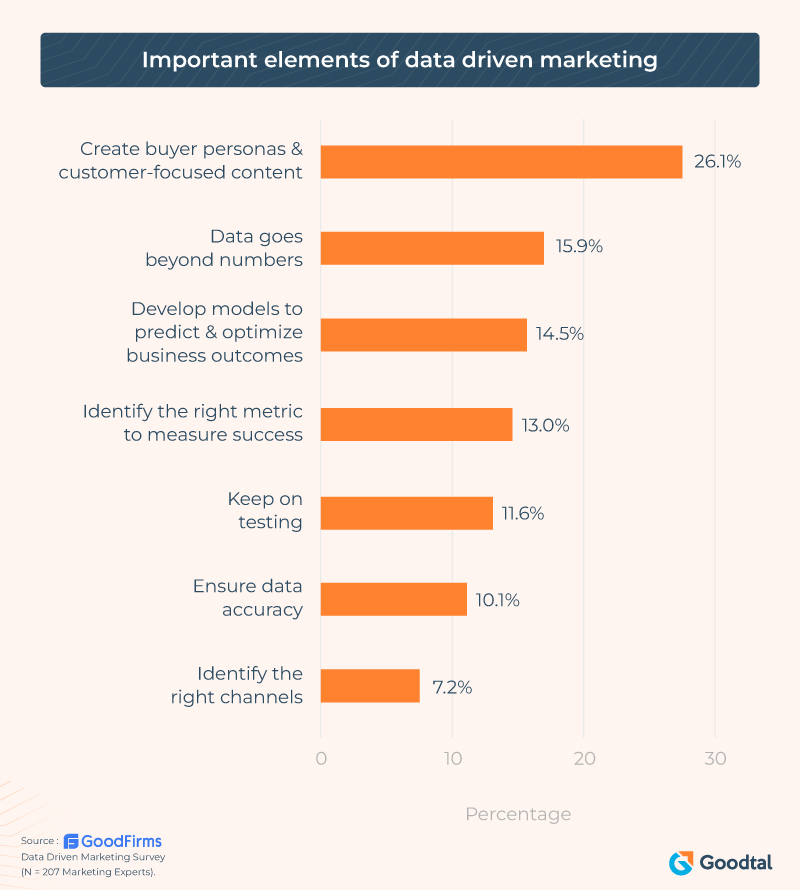 So, what are buyer personas?
They are fictional, generalized representatives of ideal customers, and their description is based on market research and data gathered from the current consumer base. Buyer personas provide insights into a person's thought process, motivations, and character traits.
It is not just about who the person is; buyer personas cover how and why the specific individuals make decisions that impact the company's bottom line. Such knowledge is a boon for marketers as it helps them create compelling messages and campaigns that the audience can relate to and produce better results.
Creating buyer personas require research. Here is how you can do it:
Send surveys to existing customers and prospects
Organize a focus group
Interview current consumers and employees who regularly interact with them
Search for information on LinkedIn, Twitter, and other social networks your customers spend time on.
View job descriptions on sites such as Indeed
Check out the blogs and publications in your buyer persona's area of expertise or industry
Search for job descriptions, demographic data, and salary information on the BLS (Bureau of labor statistic) website
Google will help a lot in collecting additional information
Once the research is done, the next step is to start writing the buyer persona description. Here is an example of it to give you an idea:
Hubspot's buyer persona generator is an excellent place to start if you are unsure how to begin.
Buyer personas are essential for building a solid marketing communication strategy that brings positive results.
For Further Reading
I recommend checking out GoodFirms research on data-driven marketing. They have covered the different challenges, elements, and benefits of this marketing strategy in detail.
You will also learn about the latest trends and essential metrics in this field.
Be first to respond